The BILNAS Archive: Past, Present and Future
by Felicity Crowe (BILNAS Archivist)
The BILNAS Archive is a rich resource of material relating to Libyan and Northern African history, archaeology and culture. It covers a great variety of material, from David Smith's archaeological plans of the Byzantine fortress at Tocra to correspondence with King Idris's beekeeper.
Much of the archive is related to archaeological excavations, some of which are as yet unpublished. This talk will look at the history of the archive, current work to catalogue the material and improve its accessibility, and future plans for the collection.
CLICK HERE TO REGISTER FOR THIS EVENT
About the speaker: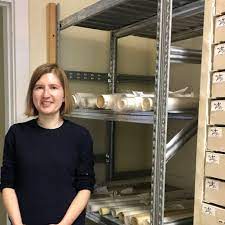 Felicity Crowe has been the BILNAS Archivist since May 2022. Before taking up the role, she completed her archives training at Westminster School, gained a postgraduate diploma in Archives and Records Management at UCL, and was the 1821 Archive Project Assistant at the British School at Athens. She is interested in the wildflowers of Greece, commonplace books, fragments, and archives relating to the Mediterranean.
____
For further information about this event please contact the General Secretary at [email protected]